Profile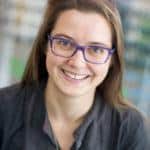 Elspeth Keating
Curriculum Vitae
Education

I went to school in Toulouse, France at the College and Lycee Pierre de Fermat. Then I went to University in Glasgow, and studied Naval Architecture - that's the design and build of boats and ships. After that I did a degree in Material Science in Ireland, then a PhD in Material Science applied to cars and now I'm doing a degree in Railway Systems Engineering - that's the design and build of trains and train tracks. I realistically love learning.

Qualifications

at 15: Brevet des Colleges - French equivalent to the GCSEs; at 17: French Baccalaureate - equivalent to A levels except I did 9 topics (you have to); at 21: Masters of Engineering - Naval Architecture and Small Craft Engineering; at 23: PgDip - Advanced Materials; at 27: PhD - Lightweight Materials and Manufacturing; at 30: PgCert - Railway Systems Engineering and Integration.

Work History

Samsung Heavy Industries (Shipyard, South Korea) 3 months in 2009 Sailing Instructor, in France and in Ireland, 8 years over summer holidays from 2006 to 2015 Researcher, University of Warwick since 2016

Current Job

Research Fellow, Lightweight materials and manufacturing, WMG, University of Warwick

Employer

My boss was my PhD supervisor. His name is Darren. He likes science, people that ask too many questions, and coloured allen keys. We've worked together for 8 years, this was taken at the neutron facility in France, where we were looking at the stresses inside additive manufactured titanium samples. A nuclear reactor is used to generate neutron that, somewhat similar to x-rays if you break a bone, look inside a material without destroying it or having to cut it open.
Favourite thing to do in my job: Learn new things

About Me: I love asking questions, learning new things, being outside, sports, and hanging out with my family!

Read more

I live in Coventry with my partner and 1 year old son. We have a couple of bird feeders and get regular visits from a ring neck parakeet. We've named him Petey. I love my job and feel very lucky to be doing research that has a direct impact on things that get mass produced – like cars or trains. I have done a lot of competitive sailing, and love a good game of Trivial Pursuit.

My Work: Before materials can get used to make things for everyday, scientists have to look at them in detail to decide if they will work. That's my job. I break things for a living so you don't have to.

Read more

Lab days involve repeatedly breaking samples, and then analysing the data. I spend some of my time analysing the results to better understand what's happening. I also supervise students, and spend some time applying for money to continue the work that we do!

My Typical Day: I get up with my son! We get ready for the day then I drop him at nursery and go to work. I check my plan for the day, and double check all my equipment and samples. I do some breaking, then look at the data to see what information I can understand about the material I broke.

What I'd do with the prize money: Show students rail vehicles (trains) of the future, in construction!

Read more

I'd like to use the money to show students the work we currently do on "light rail" building future railway vehicles for Coventry City Council and Eversholt Rail, one of the 3 main rail vehicle owners!

My Interview

How would you describe yourself in 3 words?

Always asking questions.

What or who inspired you to follow your career?

Curiosity, stubbornness and a series of well timed coincidences!

What was your favourite subject at school?

SVT - Sciences of life and the earth (biology, some chemistry, geology all in one).

What did you want to be after you left school?

Happy.

Were you ever in trouble at school?

Yes. I was a tyrant to one of our teacher training in Maths and my grades never recovered.

If you weren't doing this job, what would you choose instead?

Penguins. Antarctica. Everyday.

Who is your favourite singer or band?

It depends on the mood!

What's your favourite food?

Pasta.

What is the most fun thing you've done?

Top 3 - sailing at night with phosphoresce and dolphin pods, driving to Kazakhstan and back, standing over the core of a nuclear reactor.

If you had 3 wishes for yourself what would they be? - be honest!

Be better at arithmatic, always make time to do what I love, make a difference through my work.

Tell us a joke.

What do you call a bullet proof Irishman? Rick O'Shea.
---
---
---